Guide Sam Sickles help Jim Drennen of Mid Columbia Marina land a dandy Deschutes steelhead during last weeks camping/fishing trip.
DESCHUTES RIVER STEELHEAD:
September 11th through the 20th ended my twenty-five day Deschutes jet-boat camp season for 2017. With this last week came the arrival of fall weather, a 30-degree drop in temperature, a 500 cfs bump in the river, 40 to 50 mph gusts and a torrential rain storm. The river is taking on a monochromatic look and we know October is around the corner. In a normal year, October signals fewer fisherman, colder weather, water and slower fishing. It also signals the arrival of much larger fish.
With the 2017 forecast, and the actual numbers of fish moving up the Columbia River, the Deschutes has not been the "go to river" this season. 2016 left a bad taste in a lot of mouths. The surprising numbers of actual fish in the river in combination with less pressure has meant better fishing than 2016, much better. In 2016 188,146 steelhead crossed over Bonneville dam, YTD 2017 103k have crossed Bonneville. So fishing should have been better last year and worse this year…well, not so fast.
One of Sam's happy clients with his very first steelhead ever while fly fishing.
The Deschutes, although it has its own two and three salt fish, is primarily a one salt steelhead fishery. It's also primarily a true "summer" steelhead fishery. My hope this year was that we would have a return of one salt fish and that's what we got. There has been a disproportionate number of one salt fish in the Deschutes this year. There has also been a disproportionate number of in-basin Round Butte hatchery fish compared to dip-ins and strays. The Hatchery numbers are probably a direct result of the moratorium on steelhead retention in the Columbia and the outright halt to all fishing from the mouth of the Colu
mbia to Moody Rapid. In either case, the addition of hatchery fish has been a welcom
e surprise and has made for some outstanding days.
So my report is: fishing has been better than I expected it to be. Since mid July when I started swinging flies on the Deschutes for summer steelhead I've caught a lot of fish. Very few zeroes this season but it has happened. Most of the fish have been super hot and feisty four to six pound steelhead custom made for six weight spey rods. Last week we saw a half dozen two salt fish.
A moment of gratitude before the release.
So what's next? October and the B-runs. The forecast is worse than poor, it's dismal! The class of 2015, those fish out migrating during the worst drought in twenty years met the big lifeless blob in the Pacific Ocean and few fish returned in 2016, just the two salt fish (class of 2014). This year it's been pretty much all one salt fish. The question is how many two salt fish will head up the Columbia, and how many of them are going to turn up the Deschutes? The answer is who cares! Steelhead fishing is a game of chance, the chance to drive a fly in front of an anadromous fish. Steelhead are notoriously good biters, they aren't hard to catch, just hard to find. The hard to find part is the draw, and if you're not into that chances are you're not cuckoo for Coco Puffs about steelhead.
I went to work on July 17th and I'm out of customers October 2nd. If my phone doesn't ring and I'm not working, I'll definitely be out there looking for the big fellas; the bruisers with the big shoulders and the twin stripes down their sides. The fish we sport the seven weight spey rods for, the ones we wade the terrible water for. I'm stoked for fall and I'm hoping the Deschutes continues to outperform the forecast. If it doesn't, it's still the best game in town.
Tight Lines, - Sam Sickles
Owner/Operator - Steelhead Outfitters
SPECIAL NOTE: Sam has some open dates coming up and fishing is still going well. If you want to get out before winter hits, this is your chance to fish with a great guy/guide. Give Sam a call at 541-400-0855!
This dandy was spunky and didn't want to give up!
P.S. - I was able to take a few days off from work at the shop and help Sam around camp with the rewards of being able to do some fishing as well and I can confirm what Sam has said about the past few weeks of fishing. I was able to hook seven steelhead and land six of them on my new G.Loomis Asquith 7130 Spey rod. Not a bad way to find out if your new rod has mojo or not.
John Garrett - Gorge Fly Shop
P.S.S. - It's officially fall and easily my favorite time of the year to be steelheading! The longer nights giving way to cooler temperatures, which has been keeping water in the happy range for summer steelhead. They've been aggressive to the swung fly and recently I spent a couple quick mornings on the Deschutes above Mack's Canyon and found a few fish happy to rise to small drab flies on floating lines. My girlfriend and I even both rising fish to muddler's. It's no secret I love the dry line approach to summer-run fish and there's no better time then now to target them on the aforementioned method. The surface attack is highly addictive and I'll be posting one of my favorite October Caddis patterns here shortly.
Cody Booth - Gorge Fly Shop
An effective top water popper for John Day Smallmouth
COLUMBIA RIVER / JOHN DAY RIVER BASS:
FM: Cody Booth of the Gorge Fly Shop
COLUMBIA RIVER: The top water action is still going strong although it will start getting colder which will cause the smallies to hunker down a bit more. Try using sink tip lines or weighted streamers such as the Clouser Minnows, Jawbreakers or Sculpin patterns.
JOHN DAY RIVER: Sometimes the smaller fish are fun to. Like when using a 3wt microspey rod and a variety of different flies. We used everything from poppers to muddler minnows and we caught fish with all. The smaller fish seemed to be more on the surface and the bigger ones below. This was actually my very first time catching smallmouth bass on a fly rod, won't be the last.
A small Smallmouth couldn't resist Cody's muddler minnow.



Flows:
The USGS sites give us real-time flows, while the NOAA site shows us predictions based on weather patterns. Both are invaluable tools.
Hood River:
Clackamas:
Deschutes near Madras:
Deschutes at the mouth:
Columbia River
As always, we are happy to talk fishing anytime. Give us a call if you have any specific questions on local rivers, gear, and tactics, or if you just want some encouragement to get out of the office.
541.386.6977
Remember, if you can't find it at the Gorge Fly Shop, you don't need it!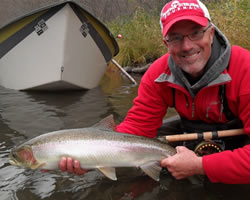 Gorge Fly Shop
John Garrett | Product Specialist
541.386.6977