Got the email from Erik of Angler's Rendezvous (our Sage, Redington and Rio reps) that our annual Farbank Mini Spey day was going down on March 22nd, 2015 in Bend, Oregon, a short three hours drive from my hometown of Hood River. I thought, what a great excuse to get away and spend six hours casting Spey and Switch rods until my hands had to be pried from the cork handles...Like a warrior who's held a sword for hours during battle and his hands won't let go.
Spey Day - Bend Oregon
Sage and Redington Spey & Switch rods
patiently wait their turn to perform.
If this years Spey day is anything like last years, I am going to thoroughly enjoy it.
It's not too often that a guy has the chance to cast multiple Spey and switch rods side by side, for an instantaneous direct comparison. To really get a feel for the difference, casting different models, lengths and tapers side by side is by far the best method of telling the differences. Honestly, not only is it fun for me to spend the 6 hours casting all the rods but it translates into the confident conversations that I have on a daily basis with customers who call the shop or drop in looking for guidance in making their first spey rod purchase or their tenth.
From a customers standpoint, there is nothing like talking to someone on the phone that has actually cast or fished with the rod that they are interested in.
From a shops standpoint there is nothing like having an employee who has actually cast or fished with the rod that the customer is interested in. First hand knowledge of equipment reeks through your conversation over the phone. I hate talking to someone that seems to be reading right out of the catalog trying to sell me something. It doesn't take too long to realize when this is happening.
Google or YouTube anything today and in a matter of milliseconds you have years of information and opinions at your fingertips.
This is a good thing and it can be a bad thing. Good because you can do research without the pressure of a used car salesman breathing down your neck paid by commission. Bad because you can do your research...too much research...research overload, so much to the point you can't make a decision one way or another. You're now more confused than when you first started. If you're reading this and are thinking of making a Spey or Switch rod purchase, with all due respect, do some research, and pick just a couple of fly shops that actually fish with spey rods and you're confident with, give them a call and get dialed in. I have had numerous conversations with customers who have over researched and finally, out of desperation reach out to us. I once had a customer (if this is you, I didn't mention any names) straight up, within the first few seconds of our conversation confessed that he had been researching the equipment he was interested in for months and that he had literally called nearly every fly shop in the United States and now was so frustrated because he kept getting conflicting intel. I totally understood what he was saying and I respectfully said to him...that he had become so saturated with information he couldn't make a decision because most of the folks he talked to contradicted the previous guy he called. I politely said to him that he needed to take a breath and pick a couple of shops, who actually use spey rods, and start to trust somebody. He agreed with my statement and confessed that he was exhausted from all the research and he thanked me for being so honest with him. I could actually feel the tension in his voice subside as I told him this.
In short he'd become so overloaded with different personal preferences from so many shops that he couldn't choose.
Shop employees where giving him advise on their casting preferences but neglecting to ask him about his. He was transitioning into the two handed world from single hand rod experience. So I was able to gather enough info from him and his background with a single hand rod that I could recommend a rod suitable to the casting style he was already used to, which made for a smoother transition for him. The equipment he was interested in was expensive and he wanted the confidence that he was making the right choice for his investment. He didn't have a local shop that he could test drive the equipment or talk to anyone who even used a spey rod.
Spey Rods and Reels stacked like chord wood!
OK, where do I start!
There are many reasons why you need to take a deep breath, sit back, relax a bit, and approach the spey/switch scene with a bit of trust.
I say that assuming from this point on you will take my advice and use a shop that actually lives and breaths to spey fish and knows the equipment.
There are a number of variables that will help us get you dialed in. For instance, your casting style,
are you on the aggressive side or are you a bit more laid back and patient, what size of a river you fish, what style or technique will you want to use and much more. I cannot give you a true diagnosis of the correct rod you should choose, by just considering my casting style. That would be like going to the doctor because you're ill and the Doctor diagnoses you with his symptoms. Doesn't make sense, does it? I need to gather as much information from you to help you make the right choice.
For example,
I once set up a petite woman with a
Sage One 7116-4
(11'6" 7 weight) Switch rod and a
Rio Skagit Max Short
head due to the fact that she was small, the shorter switch rod and head fit her perfectly. The standard, go to, introduction to Spey rods,
Sage One 7136-4
(13'6" 7 weight) was too big for her. Once she took the Switch rod outfit to the river, it didn't take her long to fall in love with it. I try my best to get as much information from the customer and their casting style before recommending which rods would suit them. If they have no experience at all, either with a single hand rod or a two hander, my default recommendation is typically a fast action rod such as the Sage One. There's a reason for this. Typically a fast action rod is much more forgiving than an ultra-fast action rod, were your timing is somewhat critical, or a slow action rod because most people, honestly don't have the patience to wait for a deep flexing rod to load up before they start their forward stroke. When casting an ultra fast rod, such as the Sage Method, if your stroke is on its "A" game the rod will let you know how awesome you are by producing blistering line speed with little effort. BUT if you're having a "B" day, you're gonna struggle and you may not like the Method so much. The Sage One is the perfect go to rod for most folks. It's easy going for a somewhat laid back caster, super smooth and yet still has the power if you give it a little more umph on your bottom hand when you need to. Now there are other rods that have a fast action that would suit the needs of most folks, I'm just using the Sage One as an example, because in the Sage lineup of rods, it is my go to "comfort food" rod. It's an amazing tool. I wouldn't know these intimate details of the Sage One if I didn't have a personal relationship with the rod. The Method is an awesome rod, no joke, it's awesome...for the guy who loves an ultra fast rod...not so awesome for the guy who likes a more traditional full flex rod.
In the six hours I spent casting, I cast 4 weight switch rods to 15' 10 weight spey rods and everything in between.
Spending considerable amounts of time on each. If you want to test your casting skills grab a 4 wt switch rod and immediately after casting that for 20 minutes grab the 15' 10 weight Sage Method, then go straight for the
Sage Accel 7126-4
aka "Mr. Wiggles" and just see if it doesn't take some adjusting before you get your stroke back. This is why I go to these "Spey Days". To be able to grab rods and cast them side by side for an accurate instant comparison is priceless for the customer who doesn't have that opportunity or have a local shop that they can do so themselves. My experience equals your benefit. You, the consumer benefits from my personal time spent with each of these rods. Now, if you call the shop and ask me about a rod that I have never cast, I will tell you that I have never cast that one...yet. I will be honest with you and tell you that I haven't lined that rod up yet. I can still describe the action of the rod, maybe even talk to you about the taper, give you a great line recommendation but this conversation won't have the passion in it compared to the rod I have actually went out and spent time on the water with or even personally owned. You can tell when someone has a bit of passion about something.
I'll end with this. The "Spey Day" was on one of my days off...just sayin...
Low and Clear
This beautiful Steelhead was caught on a Sage One 6126-4 in low clear water conditions. When water is low and clear, lighter rods, lighter sink tips or no sink tips, and natural colored flies are a good choice to improve your odds in landing the prize...
Remember, if you can't find it at the Gorge Fly Shop, you don't need it!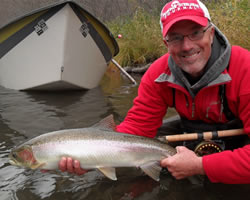 Gorge Fly Shop
John Garrett | Product Specialist
541.386.6977