Dons second and Travis fighting his second Permit.
In the heart of the Sain Ka'an Biosphere Reserve at the northern entrance to Ascension Bay is the small village of Punta Allen. Punta Allen is the lacation every flats angler dreams about. With in minutes from the small village are some of the most productive flats in the world. On these flats is where large numbers of Bonefish, Permit and Tarpon call home.

Whether this is your first or fiftieth trip to the flats the Ascension Bay area will amaze you. This area is known to be the Grand Slam Capitol of the world. Bonefish are plentiful here averaging 2 to 3 pounds with fish reaching as large as 8 pounds. Baby Tarpon in the 5 to 40 pound range cruise the mangroves in great numbers. The most exciting and difficult fish you will get a chance to cast to is the Permit. With the high numbers of permit in this area it is know as the best place in the world to catch a permit on a fly. In addition you will find Snook, Cuda, Jacks, Snapper and many more fish eager to crush your fly.



The Mayan guides are excellent...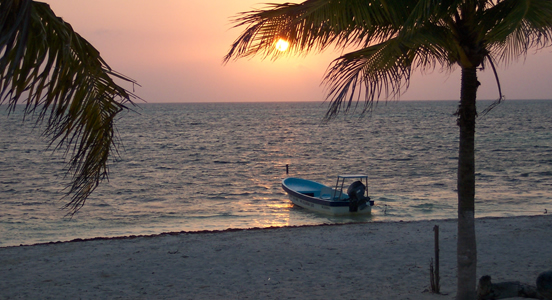 The View from the Palometa Club, Mexico!
The Palometa Club | Mexico Trip

Mexico Bonefish, Permit, Tarpon and More!
Come join Travis Duddles from the Gorge Fly Shop at the Palometa Club in Punta Allen, Mexico on the edge of Ascension Bay for a week of some of the best flats fishing you will find in the world. These famous waters are filled with bonefish, baby tarpon, barracuda, snook, jacks and much more, but it is the WORLD CLASS permit fishing that Ascension Bay is most noted for. It has been claimed to be the best place in the world to catch a permit on a fly. Having an excellent guide is very important on these flats that is why we go to the Palometa Club.

The Palometa Club is the premier lodge of the Ascension Bay area, not only is the lodge one of the nicest in the area, the Palometa Club has gathered some of the best guides in the region. You will have the advantage of 2 guides per boat, this gives you the advantage of 2 sets of eyes, and while wading a guide with each angler.

The Palometa Club is a fully-inclusive lodge...