Photo Credit Steve Turner
It never fails, at the end of the Klickitat steelhead season when it closes on November 30th that I'm always bummed that it comes too quickly.
For years I had attended meetings to try and get the "authorities" to keep it open until the end of Feb or March and beginning December 1st make it artificial, and barbless lure only to remove any hatchery fish that could possibly try to spawn with the wild steelhead. I had several reasons for trying to keep it open, the first was selfish and that was to prolong my fishing season on my favorite river and the second was that It made no sense to me, to close a river where there are hatchery fish in the system, when biologist will straight up tell you that they don't want hatchery fish spawning with the wild fish.
Through studies that I have done with biologist in the past we discovered five different genetic strains of wild steelhead in the Klickitat River. If you're trying to protect the spawning wild fish by closing it, then the artificial, barbless lure/fly makes perfect sense. We could continue to fish and harvest any hatchery fish meanwhile protecting the wild fish, who typically take artificial lures and flies less deeply than bait. Everyone including the steelhead wins. Ok, small rant to open the article, my purpose? To spark a thought in your head on why we do things sometimes the way we do them. I know the reasons, and it can be complicated at times, but that's a whole other article we'll save for another time. With my little rant over, the good news is that the season opener is right around the corner.
Already!
2015 | Low Water – Different Approach
Spring Chinook will grab a fly slowly swung like molasses.
This past winter we have, to say the least, had no winter. Depending on where you look for information you will see that we are anywhere between 11 to 20 percent of our needed snow pack. This basically means we are in a drought year. If you look at the river levels of the Klickitat right now, you will see that we are about half the level (cfs: cubic feet per second) that we should be typically during this time of year. This translates in to low water conditions and even though the Klickitat is a glacial fed river, which typically means colder water temperatures than non-glacial fed streams, we could see warmer than usual temperatures as well. There will be less water for the fish to hide in so we will have to adjust the way we approach and fish it. At this point the Klickitat is getting strong numbers of steelhead already, before the opening date of June 1st.
I have had seasons where steelhead fishing has been really good during the opening week. At the time of me writing this, the word on the street is that the Klickitat will be open throughout the river for Spring Chinook as of June 1st, with a two adult limit (typically it wouldn't open until August 1st unless the hatchery upstream has gotten its quota) …and…and, the daily bag limit for steelhead has been set for 3 hatchery fish per day (typically it's a 2 fish limit). Time will tell as the season progresses, just be ready to adjust as needed.
Temps | Tactics
Temps:
Steelhead and Chinook are cold blooded and they are susceptible to both cold and warm water temperatures. Ask any veteran steelheader or biologist and they will confirm that water temperature will dictate how active fish will be, and where they will most likely hold, this isn't a big secret but it's worth reviewing. To keep this portion short there are three temperature ranges that I want to touch on.
Mid 60's to over 70 degrees: This is when steelhead will be mostly inactive. They will become lethargic, kind of like you or I getting out of the hot tub. Your energy is drained and you're tired. Anything over 68 to 75 degrees (depending on each river) can be lethal to steelhead and Chinook. There are numerous studies on the internet about water temps and the effects on steelhead and Chinook, if you want to go deeper into the details simply Google it and knock yourself out. If I were to fish a river with temps in this range, I would be on the river at the crack of dawn when water temps are at the coolest and I would stop fishing once the river temps reach the lower end of this gauge. I would concentrate on the faster choppier heads and tailout's of runs, forgetting the slow water. Fish that are landed in rivers where the temps are over 70 degrees do not fare well and their survival rate decreases due to the stress involved in battle. I encourage you to not fish when temps reach over 70 degrees for the fishes sake.
Mid 40's to Low 60's: This is ideal temperatures for active fish. I really like it when the temps are 45 to 55 degrees. You will find fish all over the place at these temps. Active steelhead will chase flies in every column of the river in this temp range. Skating a dry, swinging a wet, or dredging the depths it's all good. This is where you will want to fish the entire run head to tailout. I recommend going through the run first with your skated or subsurface wet fly, then going back through with an intermediate sink tip and if you feel up to it, a third time with a sink tip. This will cover that run completely. You could honestly say that you gave that run a legit covering. I have done this, especially when I have the chance to fish a prime run. I've hooked them just under the surface and then went through again and hooked them on a sink tip. If you are skating a fly on the Klickitat I would start out with a good sized one, the main reason is because Klickitat River like bigger skated flies than say the Deschutes, if you get a player to come up to the surface but you fail to hook him, immediately put on a smaller one, and if that doesn't do the trick, swing a subsurface wet fly through there, he's a player so play with him. A couple falls ago I played cat and mouse with a steelhead for over 45 minutes, changing my fly 5 times before he'd had enough and didn't want to play anymore. It was crazy fun and intense! I was engaged with the game and had a blast. One of my all-time favorite flies is the Purple Muddler Minnow on a floating line or a sink tip, doesn't matter, it puts steelhead on the beach. If skating in October I wouldn't overlook the October Caddis, we have monstrous October Caddis on the Klickitat, October Caddis as big as some butterflies, hence the bigger skater.
Low 30's to Low 40's: Here steelhead will begin again to become less active and the lower the temps get the more lethargic they become. Again they are kind of like you and I, when I'm cold, and the colder I become, the more my fingers don't like to work and all I can think of is getting back into my comfort zone. To be successful at these colder temps you will definitely forget about fishing 75 percent of the places you normally could find a steelhead when temps are more ideal. This is the time to concentrate your efforts in the deeper slower pools. Steelhead will actually stack up in pools like cordwood to take advantage of the slow moving current and conserve energy. I have had ridiculous fishing (numbers) when I used to Centerpin and nymph fish when the temps were in this range and the fish were stacked up. This can be a difficult time to take a steelhead on the swing, not impossible but challenging. This is where slowing your swing way down to a crawl and letting it hang for an extended amount of time could pay off. I have landed steelhead on the swing with water temps at 31 degrees. I know that in some places steelhead have even been taken on skated flies in these temps but it's usually in shallow clear water where they don't have to move far to take the fly.
In short, when water temperatures are low, you'll find the fish in the softer water along the edges of the river and in slower, deeper runs, pools and flats. They lie in these places to avoid fighting the current. On the other hand, the warmer the temps, the faster, choppier water you're going to find them in, this is where oxygen will be sufficient and needed. The Klickitat has lots of long shallow choppy tailout's from one to three feet deep which will be ideal places to swing or skate your fly in low, clear and warmer water temps.
Don't go to the Klickitat in early season with wimpy hooks,
these fish will destroy them and leave you with a souvenir!
Now, let's talk about the Klickitat River while temps are fresh in our minds.
Typically the Klickitat runs colder than most rivers around here due to the fact that it is a glacial fed river. Compared to the famous Deschutes River in Oregon which most of the time has ideal water temperatures for skating and swinging flies, the Klickitat is considerably different. The "D" temps are typically warmer and you have huge classic runs with major holding lies and active fish which is the very reason the river is world famous and precious to the steelhead junkie. The Klickitat although smaller in size has lots of classic runs and holding water, but it runs colder, so the fish react differently to the fly at times. This is not to say that it's impossible to have awesome action on the swung fly but it can be more of a challenge to get them to take the fly, just ask anyone who has fished the Klickitat and the Deschutes in the summer and fall and they will agree with what I am saying. There is a reason that 90 percent of the guides guiding on the Klickitat River are nymph fishing most of the time. It's because it's easier to get a steelhead in a smaller, colder stream to bite while being spoon fed than it is for them to chase something down to attack.
When I fish the Deschutes in mid-summer and throughout the fall, I am very confident, dare I say, know that I am going to hook steelhead on the swung fly. It's rare that I don't. It's happened, but not often. On the other hand, the Klickitat can test you. You might make multiple trips over there and spend hours before you get a grab. I've had years where 80 percent of the time I went over to fish before going to work in the Gorge Fly Shop I would hook one to three steelhead on the swing, then I've had times I might make 6 trips over without a grab. So, I say all that to say, that on a river like the Klickitat, you have to have a game plan. I probably sound like a broken record because I know that I have shared this information in past articles. By taking temperatures you can dissect and determine where and how to fish, it's that simple. Each river is different in its own way and to truly become intimate with a river you have got to spend time on it and pay attention to what is going on around you.
Sam Sickles grasp what we call a legit Klickitat River TOAD!
2015 Opening Expectations
My thoughts, looking forward to the Klickitat opening is that in this low water/drought year we are already seeing abnormal water levels, although I have not been to the Klickitat to take a water temperature, I would bet that it would be slightly warmer at this point as well. If we continue to have no rain, in conjunction with little snow pack, without a doubt the river will continue to drop and with the heat of summer around the corner, we will see warmer temps than usual. With such a small amount of snow pack I believe that we will have for the most part low clearer water than we typically do. We just don't have the snow pack to keep the river at its normal spring levels. Last year we had better conditions in the middle of summer and I know of temperatures as high as 65 degrees where measured.
On another note, with low, clearer water and warmer temps we will definitely see more of the slimy, snotty, string like moss (my scientific name for it because I don't know the real name of it) that grows on the rocks. Anyone who fished last summer when that stuff was growing knows what I'm talking about. With the sun rays reaching down to the bed of the river it makes prime growing conditions. We could see some challenging conditions this season to say the least.
With this all in mind and with the current fish counts, although it is still pretty early, but we are at about three times the ten year average so far for fish over Bonneville Dam. What does this mean? Well with good numbers of summer steelhead a possibility and with conditions I've described, we could see some great action when the temps are in our favor. I am personally going to be a skating fool on the Klickitat this summer and you can bet that I will be aware of what is going on around me while I am on the water. I will be taking temperatures throughout the day to maximize my success but also to protect the fish. I will adjust my approach in the way that I fish. I have always wanted to become a better fisherman with a skated fly and I believe that this season, given the conditions, could be the year to become more proficient at it. Ideal conditions where the water is lower and the temperatures force them to lay in long fairly shallow tailouts, I could see some serious skating action. If my excitement becomes reality, you will definitely hear about it.
Examples of Skaters in various sizes to cover various conditions on the Klickitat River…Can't Wait!
I've tied up some skaters that are ready for battle. As mentioned at the beginning of this article, only time will tell what happens and the changes we'll need to make, in the meantime go to the river with a game plan, I'll see you out on the water…
John Garrett's Guide to Early Season Steelheading on the Klickitat
Klickitat River Late Season with John Garrett
Remember, if you can't find it at the Gorge Fly Shop, you don't need it!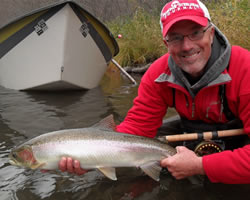 Gorge Fly Shop
John Garrett | Product Specialist
541.386.6977
"Fly Fish the World with Us"