Product Reviewed: G.Loomis NRX 12' 6wt Switch Rod
G.LOOMIS ROD AND MY CUSTOM HARDY REEL
IN THEIR WORDS:
An extreme performance, 12-foot Switch rod that, thanks to a highly technical nano-silica resin system, is incredibly light and unbelievably strong. It features a fast action to create tight, aerodynamic loops for long, accurate casts. You will experience positive line control throughout the swing with excellent mending qualities
Rated for both Skagit and Scandi-style lines, it's the serious fly rodder's dream rod. Whether your fishing skaters on a floating tip or intruders on a sink tip, this rod will handle just about anything you ask of it. Available in matte-black with aggressive, bright blue wraps or the more subtle forest green finish with matching wraps.
MY TAKE: I don't mean to brag, I don't mean to boast, but I like hot butter on my breakfast toast…(rap verse from like the late 70's)…The G.Loomis NRX Switch rod is just like that…Hot butter on your breakfast toast! When I got my hands on the 12' 6wt NRX Switch Rod,
I couldn't wait to take it out for a swing. This rod is on the long end of what's considered a switch rod and the short end of what's considered a spey rod. I'm not a real techie guy, that's for sure. I get lost in translation. I just like to use what works, and all I can say is this is a super light rod, weighing only 6.6 ounces in a 12' rod that packs a punch! I ask you, is there anything on earth that's 12' long and only weighs 6.6 ounces other than a top of the line switch rod? That's 1.8 ounces per foot of rod. I'm just trying to put it into perspective. The 12' 6wt NRX Switch rod is super light in my hand and a joy to cast, especially when lined up with a 360gr Scandi head.
I had a blast fishing this rod recently on the
Deschutes River
. It still amazes me how you can take a 12' 6wt Spey/Switch rod as light as this and throw eighty to hundred foot cast with relative ease. Years ago I REFUSED to get into the spey scene because I had no desire in using a 14' 9wt rod that literally felt like holding a telephone pole, to catch 6 to 15 pound steelhead! Thankfully for our pleasure, rods have become a bit shorter and a lot lighter and so, I could no longer resist. I had to dive head first right in. I always loved the beauty of the casting style but hated the beast of swinging a telephone pole. Since putting my first spey rod into my grubby rebellious hands, I have not turned back. Matter of fact, I don't even own a single handed rod anymore when it comes to fly fishing for steelhead.
THE NRX ROD LOGO CLOSE-UP
This is an awesome rod to dedicate as your Scandi rod, although it can throw the appropriate sink tips. A perfect "universal" line for this rod would be the
Rio Scandi Short Versitip #6
. This is an ideal line that does a great job when using a floating system and or light sinking tips. I personally love this line for that reason. The line does have its limitations though in my opinion (maybe the limitations are mine). Keep in mind this is a 6wt rod, and I can easily fish the Versitip system with this rod and slightly weighted flies. If you want to throw Big Nasty you might want to grab a different rod. I really like throwing a 6wt switch rod when Scandi style fishing; I like the lightness, the finesse, and the ease of casting it.

Rio Scandi Short VersiTip Shooting Head
MY FINAL THOUGHTS:
I've been a loooong time G.Loomis fan! My entire guiding career you wouldn't have found another rod in any of my boats. Since retiring from guiding and working at the
Gorge Fly Shop
, I have had the privilege and pleasure of fishing a lot of the top of the line spey and switch rods from all the major players. And I can say without hesitation these ultra-light 12' 6wt switch rods deserve to be included in such great company. I wouldn't hesitate to designate this rod as my go to Scandi rod for sure. There's nothing better than using a light two handed rod to throw a floating Scandi head and a dry or sub surface wet fly for steelhead. This rod can easily handle steelhead from 6 to 12 pounds without getting nervous or taking too long to land your prize. As long as the conditions and size of the fish you're targeting match the size of this rod, you'll have in your hands one of the finest rods the fly fishing industry could offer. If you're looking for a medium stiff, fast tapered, fast action rod wrapped up all nice and neat in a super light package then this is your rod! I highly recommend that you try the
G.Loomis NRX 12' 6wt Switch rod
.
LINE RECOMMENDATIONS FOR THE NRX 12' 6wt Switch Rod:
If you can't find what your looking for call the shop (541.386.6977)
, ask for John.
Airflo Skagit Switch 390 – 410 grains (For sink tip applications)
Airflo Skagit Compact Int 390 grains (For dredging & avoiding pesky, conflicting surface currents)
Airflo Scandi Compact 360 grains (For floating line applications)
Airflo Rage Compact 360 grains (For floating line applications in windy conditions)
Rio Skagit Max Short 400 - 425 grains (For sink tip applications)
Rio Skagit i-Flight 400 grains (For dredging and avoiding pesky, conflicting surface currents)
Rio Scandi Short 330 - 360 grains (For floating line applications)
Rio Short Head Spey 5/6 (For more traditional casting in floating applications)
Rio Scandi Short Versitip #6 (For both floating and sink tip applications)
NORTHWEST STEELHEAD CAUGHT ON NRX SWITCH ROD
See you out on the river and if you recognize me say hello!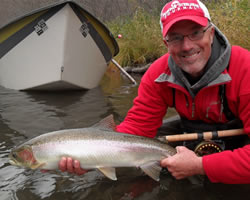 The GFS Team
John Garrett
541.386.6977