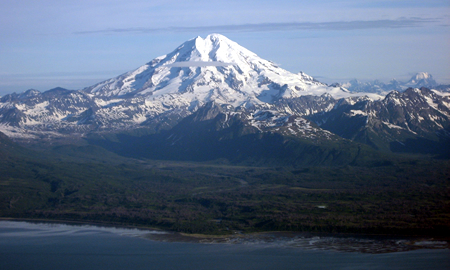 Alaska: Rainbow River Lodge
Non-Guided Rafting trips in the Katmai, Alaska
Mention the name Alaska and it immediately conjures up a visual palette of brown bears, eagles, glaciers, orcas, and sled dogs. Most importantly are the images of fish, wild and plentiful. But for the majority of anglers, those images are reserved for the Kenai Peninsula or alongside the limited Alaska Highway system. An overwhelming amount of Alaska real estate is accessible by either float plane or raft.
The prospects of arranging a self guided Alaska float trip can seem daunting but Chad Hewitt of Alaska Rainbow River Lodge has simplified the process and in addition, kept the cost quite manageable. 8 friends and I have had the pleasure of two amazing trips down the American Creek during the past 3 years using Alaska Rainbow River Lodge as our outfitter/transportation. The lodge remains in the heart of the Katmai national park. In addition to a superlative Alaska lodge experience, Chad offers access to 6 different rivers in the Katmai just south of Lake Iliamna.
The Trip
Whether your interests lie in chasing fat wild leopard spotted rainbow trout, or salmon that will chase skated deer hair patterns, the Katmai can accommodate you. For the package price...