"And On the Seventh Day We Hucked"
Fall colors in full bloom. The Redington Chromer 7136-4 got the job done and done very well!
First off, let me just state for the record that the title of this article is not just a catchy sales slogan, but something George Cook has said several times when referring to the Redington Chromer and in fact what I can confirm to be truly - A FACT! More on that later. When Georgie (our Redington Rep) first revealed the Redington Chromer to us at the Gorge Fly Shop I became super interested in it. What caught my eye was its unique design with the Polymer pinch grip sections on the handles. The main reason for this is that I've been a longtime fan of monofilament running/shooting lines for the extra distance and line speed that is generated by a "slicker" shooting line.
After using mono shooting lines for years, it's almost impossible for me to use a "fly line type" of shooting line for any length of time. This is not to say that they are not a quality product and can't get the job done, they can and do get "r" done, but for me and what I am used to, and what I like most, mono suits me well. I have used lots of different running/shooting lines that are available on the market and believe me each one has its issues or drawbacks. Maybe in the future I could do a breakdown of pros and cons of each running line that I have used, but not today. Today I want to focus on the design of the addition of the Polymer pinch sections on the handle and the benefit that it has for the mono lovers or the folks who are on the verge of trying a mono type shooting line.
A few years ago RIO created the "
GripShooter
" shooting line which incorporates a thick "fly line type" handling section to help prevent the slipping of the mono through cold, wet fingers and yet still have the benefit of a mono shooting line. The very fact that Rio would create such a line is proof of the benefits of a mono shooting line and the need to help anglers transition from the fly line type of lines to a mono type shooting line. Essentially giving the angler the best of both worlds. Although Rio's mission was accomplished with the creation of the "GripShooter" and many made the switch, I felt that the shooting line was slightly slowed down by the fly line handling section until it transitioned into the mono shooting line and then, shot out like a rocket. But remember I am so used to mono that any fly line type of shooting line seems slow to me, and that if you're transitioning from a fly line type shooting line to a mono type, you may not notice the difference, and I would highly recommend the GripShooter if you need a line to help you transition. The bottom line is the need to help alleviate line slipping from your fingers in wet and cold conditions because this is the major issue anglers have with mono shooting lines.
Jamey slips on the big rock at the tail out of "Magic", a sweet run on the Deschutes River. I was told by Sam to huck it out there as far as I could so I launched a cast that left only a few wraps of my running line still on the reel and hooked that fish right on the lip of the tail out about 20 feet away from him. The Chromer had no problem helping me get the distance I needed for success.
Going back even before the creation of the GripShooter, anglers who wanted to help stop line slipping from their fingers would use non-adhesive tape (like that used on golf clubs) to help them solve the mono dilemma. I say all this to lead up to this point…In steps the Redington Chromer. Seriously a sight for sore eyes. I don't know, maybe it was Georgie, who thought of the idea for the Polymer Grips, but its genius. They should give the man a raise! It's one of those ideas that you wonder how come we hadn't done this sooner. Brilliant but simple. The Polymer grip doesn't hurt the effectiveness of the rod at all. It certainly, in my opinion, doesn't hurt the aesthetics of the rod, in fact I think the rod looks pretty sweet. I love the matte black finish and even how the word "Chromer" on the rod shines like a freshly washed chrome bumper on a classic car (see photo below). On a clear sunny day you better make sure you have your shades on while fishing with the Chromer!
Better wear your shades
I am also a big fan of the price tag on this rod. I've said this before but I believe it's a better rod than the price tag indicates. Travis, the shop owner has a saying and it certainly is true with most rods and that saying is… "If you don't want to spend more money on a better rod then don't cast one." I will tell you this, if you were to put the Redington Chromer on the counter with the rest of the rods that I have tested and used in the same price range, even up to a few hundred dollars more, I would, without hesitation, fight you over the Chromer.
On the first full day of fishing this rod, I only had one time that the line slipped from my grip and that was no fault of the rods. I was purposely trying to see how loose I could pinch my mono shooting line against the Polymer Grip before it would slip. No joke, the Chromer does exactly what it was designed to do, and it's just innovative enough that I think the idea will be around awhile. There are numerous other things I like about the Chromer besides the Polymer Grip, like the cork handle, it fits nicely in my hands and feels super comfortable, this is a big deal for me. I don't like a thick handle, it doesn't feel right to me. Its light in hand at only 6.8 ounces (I didn't weigh it, I am actually taking their word for it and honestly don't feel like I have to weigh it because it feels light in my hand). I fished with my
Hardy Bougle #4
on it and it felt a little rear heavy due to the weight of the reel but when I fished it with my
Lamson Litespeed
#4 on it the Litespeed balanced the Chromer absolutely perfectly. It is important to place your fore grip at the position where the rod balances while casting, for comfort and power, and the Chromer and Litespeed balanced at the point my fore grip was exactly in the middle of the Polymer Grip. It does have a smooth fast action as Redington claims and It cast effortlessly at normal casting distances but when you need that extra umph to huck it out of bounds it has no problem accommodating you. Put a little more power into your bottom hand and watch it launch. By the way I put a
RIO Skagit Max
525 grain head on it when I need to use a sink tip and a
RIO Scandi
450 grain head for surface work.
Bottom Line:
The Chromer is legit, a dandy, worth every penny, and I would highly recommend it to anyone shopping around for a rod in this price range and as I said earlier, even a few hundred dollars more. The only drawback that I can come up with on the Chromer when compared to rods in its class is that
- I DIDN'T COME UP WITH THE IDEA!
The Details:
Super-smooth fast action
Down locking reel seat for improved in-hand balance
Polymer Pinch Grip sections on top and bottom handles
Polymer grips maintain body temperature for comfortable winter fishing
Matte finish blank for flash reduction
Section tips epoxy coated to prevent sticking
Full Anodized aluminum reel seat
Premium grade cork handles
Fully protective Cordura rod tube with dividers
Lifetime warranty
The Specs for the 7136-4 Chromer:
Handle - "C" (pictured above)
Length - 13'6"
Line weight - 7
Rod weight - 6.8 ounces
Skagit Grain Weight - 500 +/- 550 (the Rio Skagit Max 525 grain was MONEY!)
Scandi Grain Weight - 425 +/- 475 (the Rio Scandi 450 was dead on!)
Price Tag - $399.95
A well-deserved break after hundreds of cast…I think I like this rod. I like it a lot!
Remember, if you can't find it at the Gorge Fly Shop, you don't need it!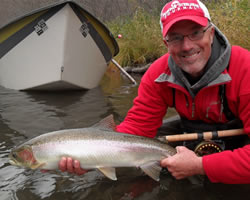 Gorge Fly Shop
John Garrett | Product Specialist
541.386.6977