Gorge Fly Shop Celebrates 20 Years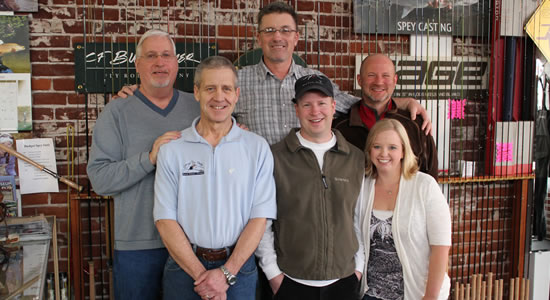 ---
Thank you for joining us in Celebrating our 20 Year Anniversary Celebration.
We gave away thousands of dollars in giveaways, door prizes and much more.
---
20th Anniversary Customer Appreciation Day
was celebrated on:
Saturday March 3rd from 10:00am to 6:00pm
Thousand$ of Dollar$ in Prize$ where given away.
A Couple of the Drawing Prizes:
Simms G4Z Waders customer choice of size
Winston B3x 9' 5 weight 4 piece fly rod
---
Below Article from the Hood River News
---
Gorge Fly Shop still reeling 'em in after 20 years
February 22, 2012
Ben McCarty
February 28, 2012
A lot has changed since Travis Duddles opened Columbia Gorge Fly Shop 20 years ago this month.
Since then the shop has changed locations, seen a big change in clientele and seen fly fishing grow significantly in the area.
"Fly fishing was still a pretty new sport here when we opened," says Duddles. "You'd go fishing with your fly rod and people would look at you like 'What are you doing?'"
The size of the shop reflected the niche market at the time. When Duddles opened at the original location behind Bette's Place restaurant, he estimates he had $5,000-$6,000 worth of merchandise in the store.
Back then the store hoped to do most of its business in the summer months and then hang on for the rest of the year.
When Duddles opened the shop he was 17, and had the option of either working or going to college. He had been tying flies for several years, and had learned how to keep books from that income.
He already had a knack for business, and if he could combine that with his love of fishing, all the better.
"I'd loved fishing since I was kid," he said. "I started tying flies when I was 10 and it was either do this or go to college."
When he started out Duddles figured he would be retired by now, and gets to spend all his free time fishing. Instead, the shop has just continued to grow.
"Back then it was just me," he said. "Now there are eight people on the payroll."
While the summer months are still big for walk-in traffic, the store is fully stocked and staffed during the winter as well. That's because Gorge Fly Shop now does close to 70 percent of its business online.
"We have three folks in the back room just doing shipping and processing," Duddles said.
The store now has more than just local customers; they ship to Australia, Europe, Canada and Russia.
That's a big change from when the shop first opened 20 years ago.
"When we started out, I had been on a computer maybe twice in my life," Duddles said.
But he quickly learned to build his business on the back of local connections and technology which could bridge the gap between Hood River and international markets.
"Since 2008 there have been a lot of good stores go under because they were not looking for the next thing," he said.
Because of the Internet orders, the shop keeps significantly more inventory on hand than it would if it were doing the bulk of its business through walk-in traffic. The bulked up inventory also helps with the walk-in traffic during the busy season, though.
"We've got inventory that a shop this size typically would not have," Duddles said. "For instance, we've got all sizes of waders. It's been real helpful with the walk-in traffic."
And even if they don't have the item in stock, the shop will find it for you - whether the customer is standing at the counter or in front of a computer in Sydney.
Duddles would still rather spend time out by the counter, getting to chat over the merits of a particular fly or rod with a customer than be in the back on a computer. But all of the business, whether it be with a longtime local or someone on the other side of the globe, helps keep the shop thriving.
"We've seen a lot of big stores go out of business," Duddles said.
"We've been really lucky because we've been able to grow just about every year and we have a lot of customers from places that have really good shops."
That growth reflects in the store. Where there was $5,000 in merchandise in the store when he opened, Duddles estimates there is around $350,000 in the store now, with some of the shelves having $5,000 by themselves.
That high level of merchandise has meant more time in the store and less on the river for Duddles, but he still crams in as much time as he can for the sport he loves.
"I get out locally maybe 10 times a year. In the early days I was out every morning and night," he said.
"Unfortunately it's not the first thing I can do on my days off anymore. However, whenever we go on vacation there is usually fishing involved!"
Even Duddles' leisure time fits in with the idea that keeps the store growing after 20 years:
"There is always good fishing somewhere."
---
The above article was written by:
Ben McCarty from the Hood River News
---
Let us know who you are and if your coming.