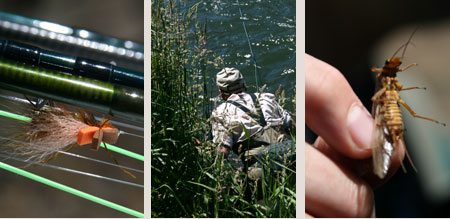 The biggest element that separates this river from most is that no angler can fish from a water craft. With that said, drift boats, rafts and jet boats allow anglers to access tons of water. A
Deschutes
River Boater's Pass is required for all water craft. However, with lots of public walk-in water a short drive from Hood River, a boat is not required to experience the wonderful trout fishery of the
Deschutes
.
Time of year:
July through mid-December
---
Every summer thousands of summer
steelhead
make their way into the lower reaches of the
Deschutes
River system. Averaging five to eight pounds, these chrome bright rockets deliver crushing grabs, incredible aerial shows, and blistering runs. What makes these fish so special is there willingness to take surface and near surface presentations in low light conditions. Wet flies and skaters account for the majority of fish taken when the sun is off the water. As the sun illuminates the river in the mid-day, large flies swung on sink-tips can be very productive.
[
Finish the Article here
]